FOURI WOMEN: MIRIAM JACKS FROM JACKS BEAUTY DEPARTMENT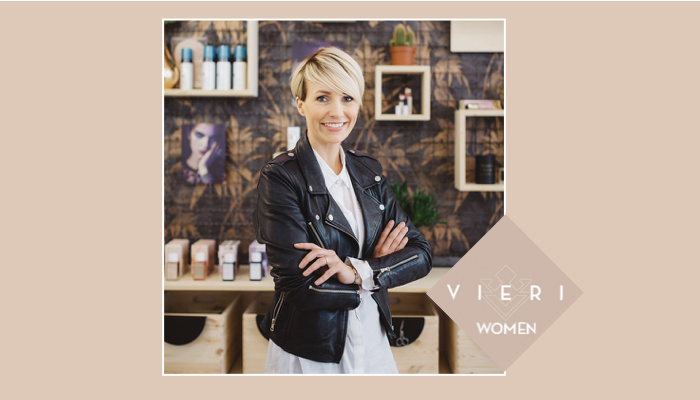 Dear Miriam, most people probably already know who you are. Would you still mind telling us about what you do and what's unique about JACKS beauty department?
Of course, it's my pleasure. I've been a hair & make-up artist for 12 years now, and in 2009 I established my beauty concept store JACKS Beauty Department. In 2011 we added our make-up brush line as well as an advertising contract with L´Oréal Paris, where I act as the national make-up artist, mainly in front of the camera.
In connection with the success of the store and the continuous development and growth, I decided last year to train make-up artists myself. I, therefore, brought the training concept "Make-Up Designory" to Germany from the USA. We are now growing the school in Germany, together with my business partner Ellen Kara and some teachers.
What were the biggest challenges in your business life?
The beginning is always the hardest, of course. Especially because I got my education in Los Angeles, I didn't know anyone in Germany and no one knew me. That meant I had to go door to door. I took every opportunity I got, no budget student films or test shootings; I always learned a lot and of course I met people. That's how I worked my way up step-by-step while working as a waitress or as a part-timer with MAC Cosmetics on the side to earn my living.
The start with JACKS Beauty Department was quite hard – especially because it meant establishing my beauty concept in Germany.
Most brands I used were unknown, and the concept of the store was very different. I had to build a foundation first.
JACKS Beauty Department is among the most famous and leading beauty shops in Germany. Do you want to let us in on how you choose the brands and products for the shop?
The most brands have been with me from the beginning. Brands such as Cosmetics à la Carte, Ellis Faas, Paris Berlin and of course Make-up Designory were well known to me from my work as a make-up artist and my travels around the world.
It's one of my greatest hobbies to travel and to discover new trends and brands. Back then I only had a small shop that almost burst at the seams. Since 2015 we are now in a much larger space, I call it my little Beauty-City-Mansion, where we can also offer more services, such as cosmetics, pedicures, and an extended hair department. That's why we have more space for new brands, which I handpicked together with my team.
Naturally, I try every product on myself, and I have to be 100% convinced. Ingredients and design do also play a significant role for me.
With your JACKS Beauty line, you created fantastic brushes. What should we pay attention to when buying brushes and which ones should every woman carry in her make-up bag?
Brushes have always been an important topic for me. A makeup artist's most valuable tool. I couldn't find any that convinced me 100% with their quality and design, and that's why I created my own line. I, for example, am allergic to real brush hair and I don't agree with the fact that animals have to die for a beauty product. That's why I wanted to use synthetic hair. It was a long process until I was 100% satisfied, but today you can hardly notice a difference, vegan hair even has many advantages. I experience the synthetic hair to be much softer, easier to clean, and the brushes last much longer. Our Brush #2 is a must-have – a foundation brush with whom you can easily apply any make-up or powder. On the picture, you can see my favorite brushes, these, in my opinion, belong in every beauty bag.
Your all time favorite products?
The face serum by MAWI Love, because it vanishes the redness and unevenness of my face:
My favorite body lotion by Grown Alchemist, because it leaves the skin so unbelievably soft while having a lifting effect:
Of course my brushes:
And currently, I'm a huge fan of the Sculpt series by L'Oréal Paris. Especially the blusher and the mascara are amazing:
You became a mother no too long ago, and it seems as if you're managing your job, being a mom and your career effortlessly. How do you manage to cover everything and give your best everywhere?
I would say that it's mainly because I had the most uncomplicated and lovely little boy. I didn't make any plans and promised beforehand, on how fast I will return to the business. But since Noah is so uncomplicated - he hardly every cries, beams with joy and is happy when I take him with me everywhere. I can more or less live my life the way I did before, with the small difference being that it's much nicer than before because this little man is always at my side. I have an au pair to support me and take care of him at shootings or appointments. I am over the moon happy that it all works out so great.
One piece of advice, that you once got and that you want to pass on?
You shouldn't think too many thoughts, especially negative ones. It'll come as it comes and you have to look positively towards everything. If you're too scared of the future, you will only drive yourself crazy. It'll all be good in the end - if it's not - it's not the end.
What's your favorite piece of jewelry and what to you associate with it?
My wedding band is most precious to me. It's a simple golden ring that means the world to me.
What are your favorite Instagram profiles/blogs or places, shops, etc. that inspire you?
1. Into the gloss - great beauty blog
2. The lane – My sister is about to get married and here you can find some amazing inspiration.
3. Couch magazine - for interior and lifestyle
4. Pinterest - I love to create mood boards and develop concepts there
5. Eyeshadowlipstickofficial – Instagram profile for all make-up junkies
---